SANCERRE Blanc – Clément & Florian Berthier
Bright straw coloured wine with green glints. The clean, racy nose reveals hints of grapefruit, white flowers and flintiness.
On the palate, the attack is full and silky, rich and plump with underlying freshness.
Freshness, purity and minerality…
Serve it between 8 and 10°C.
Drink it now or wait 2-3 years.
It is ideal with salmon puff pastry parcels. Foie gras makes an enjoyable and original partner as does Crottin de Chavignol goat's cheese. It can be enjoyed as an aperitif, with fish and seafood, or simply just enjoy with friends…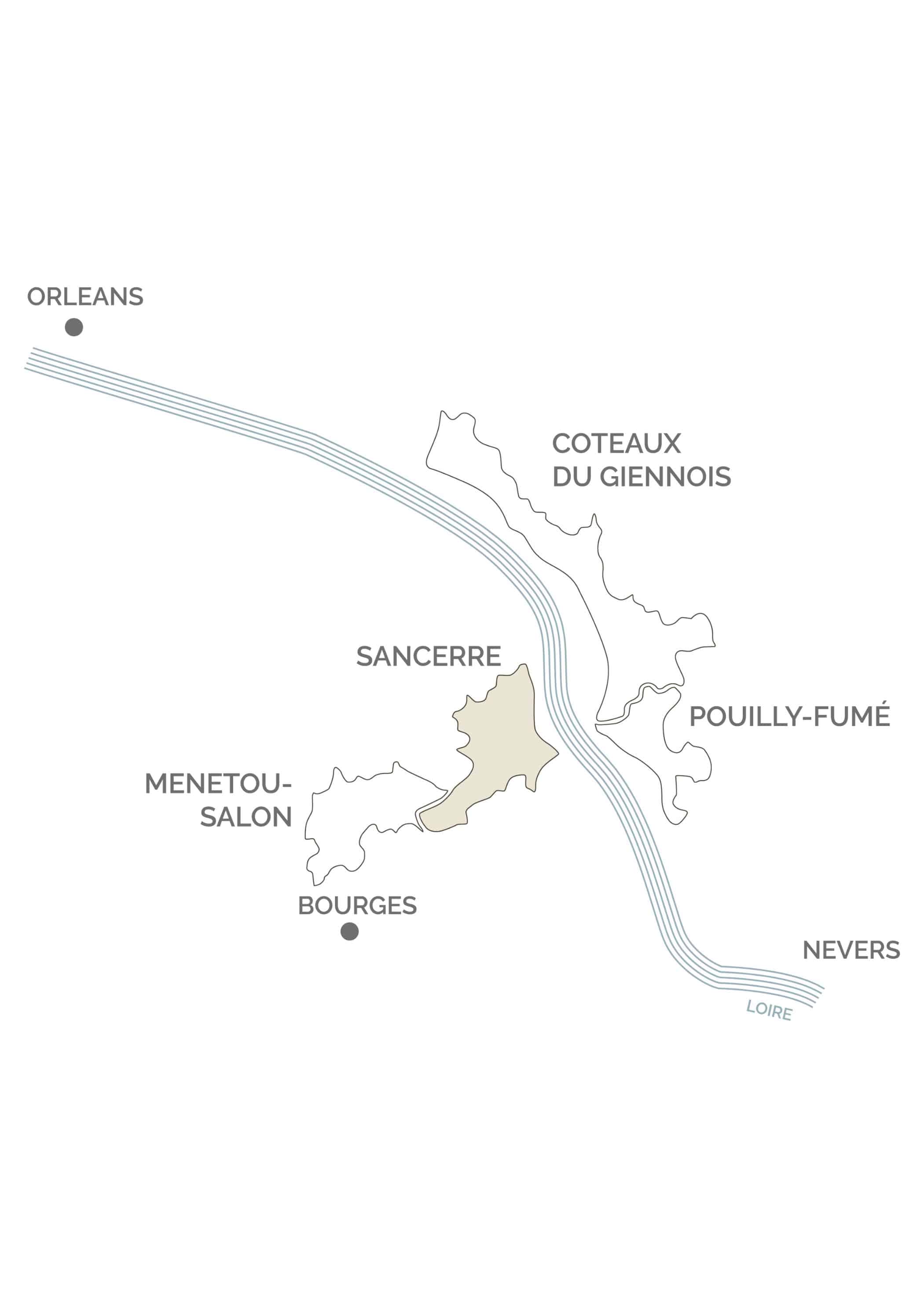 AOP Sancerre Blanc
Centre Val de Loire
Clément & Florian Berthier
VINTAGE
The wines of the 2020 vintage are expressive. One of their characteristics is aromatic purity. The maturation cycle will ultimately have been shorter for this vintage.
Vintage 2020 : a great success which confirms that the terroir is essential.
Terroir
Our Sancerre white vines are planted on the soils of Sainte Gemme and Sury-en-Vaux, small villages located in the heart of the Centre-Loire area. This white Sancerre is produced from 50% silex soil and 50% limestone soil.
These different "terroirs" provide wide complexity to our wine.
winemaking
As soon as they arrive in the winery, the harvested grapes are delicately pressed and the juice obtained is allowed to settle for around 36 hours. The alcoholic fermentation starts naturally at a controlled of the temperature (15-18°C).
Situation
Along the Loire River in east of Bourges, the vineyards extend over 2,926 ha in 14 communes.
VARIETALS
Sauvignon blanc : 100%
AGEing
The wine is then matured for a few months on its fine lees until the bottling is carried out in the spring.
94 POINTS : SANCERRE BLANC 2021
The 2021 Sancerre is super clear, precise, fresh and mineral on the rather coolish and classic picture-book nose that is pure and saline yet intense and reveals blackcurrant as well as flinty aromas. […]
16/20 Sancerre Blanc 2018 Domaine des Clairneaux 
Vignobles Berthier
From the Berthier family, this carries the name Jean-Marie Berthier on the label. From Ste-Gemme and Sury-en-Vaux, small villages located in the heart of the Centre-Loire area, half from silex and half from limestone.
Much lighter and milder than the Vignobles Berthier's Giennois wines! Just a little skinny. Perfectly fine and smoky but without the fruity core of their Terres de… Giennois bottlings.
16/20
"Vanille, citron, bouche tendue, vive, épicée, des notes de silex, long, fin, bonne persistance sur des notes poivrées."
92 POINTS : SANCERRE BLANC 2020
Berthier's 2020 Sancerre is clear and intensely mineral on the fresh and spicy, iodine and phenolic nose that is much more discreet in its fruit expression than the corresponding Pouilly-Fumé. […]
Note **
"Le nez s'ouvre d'emblée sur de plaisantes senteurs d'abricot confit, puis, à l'aération, s'égrènent de délicates notes de fleurs blanche, de menthe et d'épices. Ample et structurée, bâtie sur le gras et offrant une légère sucrosité, la bouche exprime le côté solaire du millésime, équilibré par une finale à la vivacité citronnée."
14.5/20
"Les vins jouent le registre du fruit et de la tension en blanc."
 Discover the wines from the domaine