COTEAUX du GIENNOIS Blanc – Clément & Florian Berthier
Pale gold coloured, this white Coteaux du Giennois has typical aromas of white flowers, citrus and exotic fruits (grapefruit, passion fruit). Coteaux du Giennois white is a fresh and fruity wine with floral aromas, and notes of white fruits such as quince and pear.
The wine is gentle and supple on entry to the palate and is followed by a refreshing acidity which provides good balance to the overall softness of the wine.
Daring, elegance and original character…
Serve it between 8 and 10°C.
Drink it now or wait 2-3 years.
Enjoy it as an aperitif, with white meat, fish, shellfish and other crustaceans, or simply just enjoy with friends…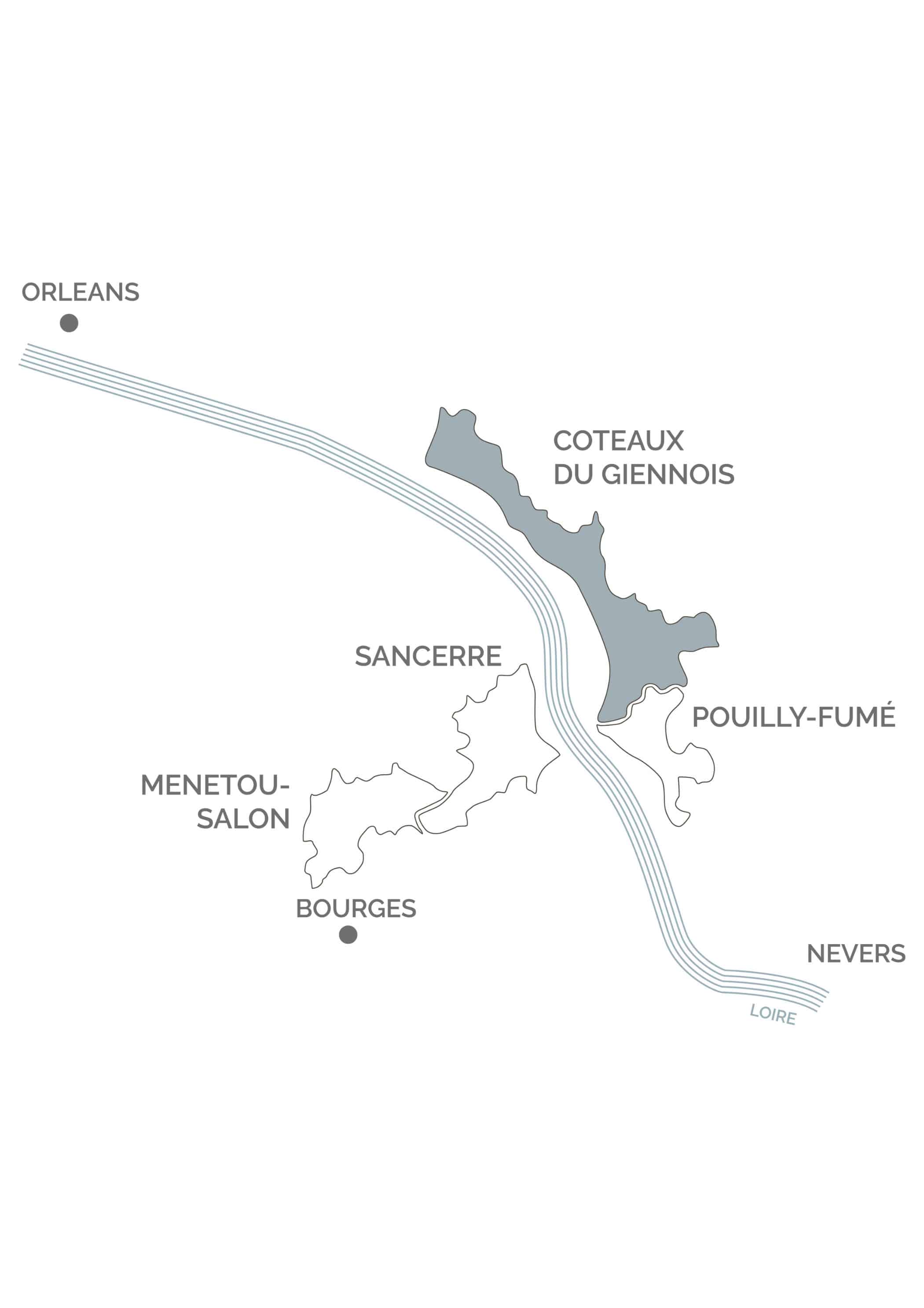 AOP Coteaux du Giennois Blanc
Centre Val de Loire
Clément & Florian Berthier 
VINTAGE
The wines of the 2020 vintage are expressive. One of their characteristics is aromatic purity. The maturation cycle will ultimately have been shorter for this vintage.
Vintage 2020 : a great success which confirms that the terroir is essential.
TERROIR
The vines grow on 50 % silex soil from the town of St Père, 30 % limestone soil and 20 % from clay soil from the town of Pougny, along the Loire river.
This really differents plots bring a large complexity to our wines.
WINEMAKING
As soon as they arrive in the winery, the harvested grapes are delicately pressed and the juice obtained is allowed to settle for around 36 hours. The alcoholic fermentation starts naturally at a controlled of the temperature (15-18°C).
SITUATION
Situated between Gien and Cosne-sur-Loire, this vineyard of 191 hectares has a temperate climate thanks to the Loire River, with a continental influence from the east. It's planted on hillsides of the Loire extensions of the geologic formations of Sancerrois and Pouilly. Coteaux du Giennois is a small and recent appellation, even if one can find archeological evidences of winegrowing in this region since the 2nd century. In full expansion with authentic wines that reveal the originality of their terroir.
VARIETALS
Sauvignon blanc : 100%
AGEING
The wine is then matured for a few months on its fine lees until the bottling is carried out in the spring.
92 POINTS : COTEAUX DU GIENNOIS BLANC 2021
The 2021 Coteaux du Giennois Sauvignon Blanc opens with a clear, fresh and aromatic bouquet of domestic and tropical fruit aromas such as gooseberries, kiwis and passion fruit seeds intermingled with the aromas of wet gravel and flint stones. […]
« Assemblage de trois terroirs (calcaires, silex et marnes), ce vin dévoile une expression florale (rose, pivoine)et fruitée (mandarine) à l'olfaction. Souple en attaque, la bouche apparaît ronde, tendre, d'une sobre simplicité. »
92 POINTS : COTEAUX DU GIENNOIS 2020
The 2020 Coteaux du Giennois Sauvignon Blanc shows a deep, intense and elegant yet warmer and less refreshing nose compared to the 2021. […]
14/20 "Les vins jouent le registre du fruit et de la tension en blanc."
14.5/20 "Flaveurs d'agrumes que l'on retrouve au nez comme en bouche, longueur bien calibrée avec une finale joyeuse."
 Discover the wines from the domaine